No less than Beer Night leaves its mark on us, we leave our mark on Beer Night — in the official Beer Night Guest Book. Click on any of the thumbnails below to see a scan of the night's guestbook spread. (And don't miss more info for each night on the History page.)
About privacy: Beer Night respects the beer drinker, so we don't ever want your privacy to be violated. That's why we have obscured all last names in these scans. If you're uncomfortable with what little of your signature remains visible here, please let us know. We will make the situation right with all possible dispatch.
Scans appear in reverse chronological order.
18 February 2006
22 October 2005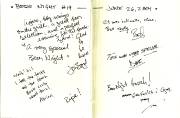 26 June 2004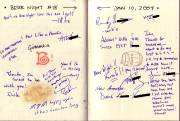 10 January 2004
22 June 2002
20 April 2002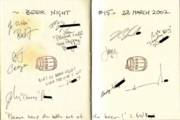 23 March 2002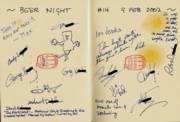 9 February 2002
15 December 2001
1 September 2001
23 June 2001
10 March 2001